Clip of Biden comforting the son of a Parkland school shooting victim has Americans in tears
Clip of Biden comforting the son of a Parkland school shooting victim has Americans in tearsOctober 22, 2020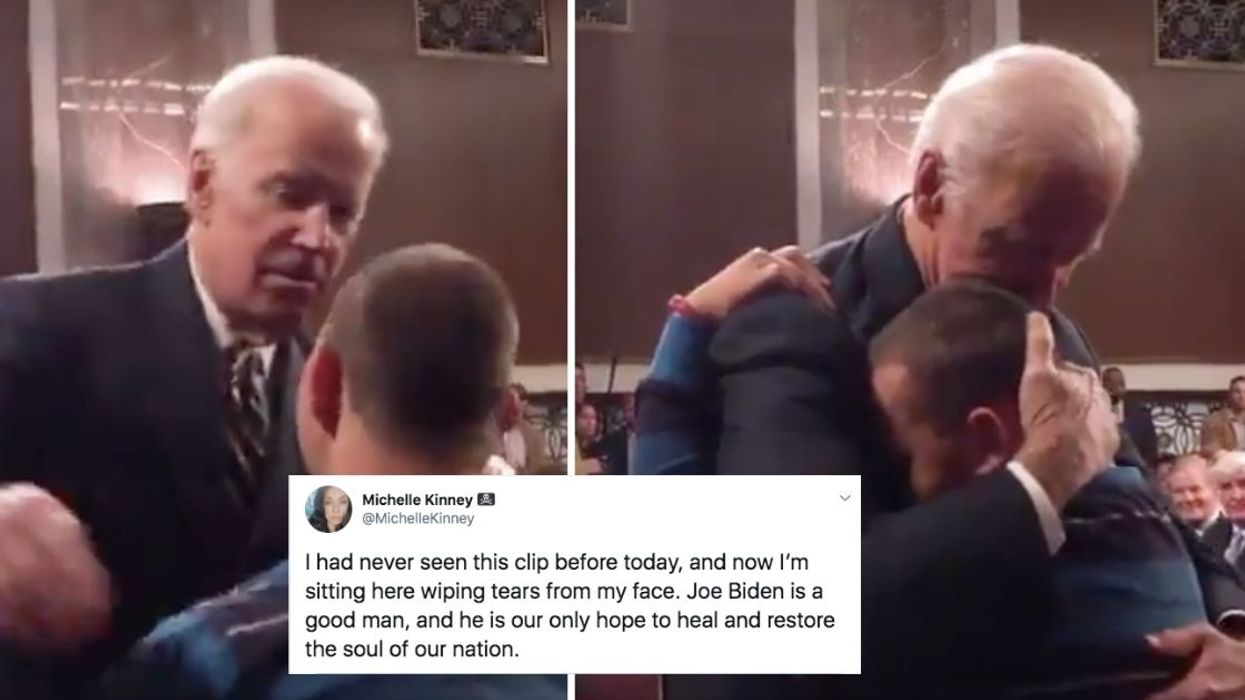 Empathy. Compassion. Heart-to-heart human connection. These qualities of leadership may not be flashy or loud, but they speak volumes when we see them in action.
A clip of Joe Biden is going viral because it reminds us what that kind of leadership looks like. The video shows a key moment at a memorial service for Chris Hixon, the athletic director at Marjory Stoneman Douglas High School in Parkland, Florida in 2018. Hixon had attempted to disarm the gunman who went on a shooting spree at the school, killing 17 people—including Hixon—and injuring 17 more.
Biden asked who Hixon's parents were as the clip begins, and is directed to his right. Hixon's wife introduces herself, and Biden says, "God love you." As he starts to walk away, a voice off-camera says something and Biden immediately turns around. The voice came from Hixon's son, Corey, and the moments that followed are what have people feeling all their feelings.
---
I had never seen this clip before today, and now I'm sitting here wiping tears from my face. Joe Biden is a good ma… https://t.co/6FbD3gbBPY

— Michelle Kinney 🏴‍☠️ (@Michelle Kinney 🏴‍☠️)1603303855.0
Oof. The spontaneous hug was sweet. Corey shaking his head "no" when Biden asks if he's okay was rough. But seeing this young man cling to the former vice president, who kisses his head and reassuringly says, "It's going to be okay. We're going to be okay. I promise." Well, that's almost too much to take.
Biden knows the pain of loss first hand. His first wife and baby daughter were killed in a car accident while on their way to pick up a Christmas tree in 1972, leaving him a single father of 3- and 4-year-old sons. He remarried nearly five years later, but experienced close personal tragedy again in 2015, when he lost his son Beau to brain cancer at age 35.
Understanding someone's pain is a powerful thing. And being able to share words of comfort from a place of experience and knowing is a gift. In less than 30 seconds, Joe Biden exemplifies what genuine empathy and compassion look like.
"I don't have it in me a lot of times to give him that comfort," Corey's mom shared in a video ad shared by Gabby Giffords. "So it meant a lot for somebody else to give him…to take that time and to care enough about him."
It meant a lot to lots of people, seeing Biden in one of the genuine human connection moments he is known for. There's a reason people call him "Uncle Joe," though this clip feels more like a hug from a warm grandfather.
And Americans made it clear that they are craving this kind of compassion to return to the White House. Here's a handful of the responses to the video:
@MichelleKinney @JoeBiden I'm still crying, that compassion…..I miss it so much. Thank you for the love from NOV… https://t.co/jv0ZSeSAN6

— helenanurse (@helenanurse)1603305235.0
@AustinJ @MichelleKinney I learned that lesson a while ago. Make sure the calendar is clear before cutting onions!

— Staedtler (@Staedtler)1603304782.0
@risteard69 @MichelleKinney @djrothkopf Exactly. It was instinctive. No hesitation.

— Sandy Cowell🌊🇳🇿🇺🇸🌈😷 (@Sandy Cowell🌊🇳🇿🇺🇸🌈😷)1603307610.0
@GiftoGab ❤️❤️❤️ I think we're all starved for decency, goodness, and leadership. Thank goodness for Joe Biden.

— Michelle Kinney 🏴‍☠️ (@Michelle Kinney 🏴‍☠️)1603308610.0
@RexChapman @MichelleKinney This young man knows a good man when he sees one. He knew Joe would've responded with k… https://t.co/Su7rPIEgAI

— 💫Patsy💥Dryden ☘️🌊🦋🙏🏻🌺 (@💫Patsy💥Dryden ☘️🌊🦋🙏🏻🌺)1603312306.0
It's also worth noting that Biden was not in office at this time, and he was still more than a year away from announcing his run for presidency. So for the cynics out there, this wasn't a political move for the cameras—this was just Joe being Joe.
Consideration, compassion, decency, empathy, and dignity are all on the ballot this election. Even Lindsey Graham in on video saying that "if you can't admire Joe Biden as a person" then "you've got a problem and you need to do some self-evaluation." He said he's "the nicest man I've ever met in politics" and "as good a man as God ever created."
This, given what Lindsey Graham has now become, really is extraordinary. https://t.co/OkMtay4HiW

— Brian Klaas (@Brian Klaas)1574427889.0
Empathy. Compassion. Heart-to-heart human connection. That's the leadership we need now more than ever.